Alicia gives Mael the whatfor on the peanut
Be sure to do your ten minutes of pre-class dynamic flexibility work.
1. 15-10-5 reps of hang squat clean (empty bar) and x 2 sec. handstand hold (i.e., 30 seconds, 20 sec, 10 sec). If you don't know the hang squat clean, hang power clean or hang muscle clean (by the numbers, that's 4-2-3-4-5-6-7). (5min)
2. 15-10-5 of calorie row and x 2 sec. L-sit hold (i.e., 30 seconds, 20 sec, 10 sec). (5min)
3. "Jerry"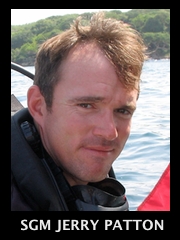 Sgt Major Jerry Dwayne Patton, 40, died on 15 October 2008 during High Altitude High Opening (HAHO) training while assigned to Army USSOCOM preparing for deployment to Afghanistan.
Run 1 mile Row 2K Run 1 mile
This workout is for time.
LIII and LII: as rx'd. LI: run 800m, row 1k, run 800m
Run the workout in two heats, ten minutes apart. Cut-off is 30 minutes.
Have fun!